3dimensional impact acceleration monitoring of logistics and transportation
Typical Case: Shanghai LiXingxing Logistics Co., Ltd.
Industry: Logistics Transportation
Unit strength: Li Xingxing Group is a multinational company, provide first-class transport and
warehousing services for CAT machinery and Mercedes-Benz cars, and also provide logistics
services for other high-profile enterprises.
Transport goods: precision parts of superior quality cars
Mode of transport: road transport
Monitoring requirements:

In the process of transport or transit, the cargo are forced to vibrate in several directions, which are
in the up and down, before and after, left and right direction of transport tool, and up and down
direction Vibration is the most serious. In order to prevent potential damage, real-time vibration and shock data is required to be recorded throughout the transportation process.
Reference standard: Enterprise standard "auto parts packaging and transportation standards",
transport vibration (shock) limit: front / rear direction acceleration ≤ 3g, vertical acceleration ≤ 5g.

Impact recorder requirements:
Measuring method: three-dimensional impact acceleration full record;
Measuring range: ± 16g Acceleration, frequency 1-160Hz;
Measurement accuracy: acceleration resolution 0.1g; low temperature: -30 ℃; package: waterproof, anti-corrosion;
Shipment flow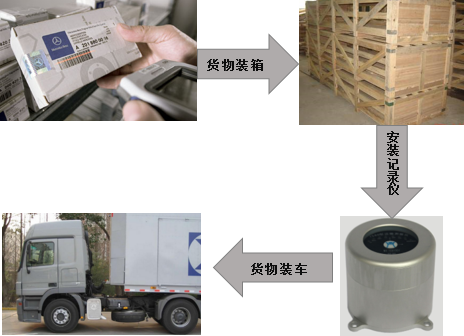 Overrun data analysis:

1. Overrun count statistics:
2. Overrun Event Chart:
Conclusion: Corresponding data timestamp and transport process record table, confirm the overrun
occurred while the cargo is transshipped, provided an evidence for the definition of responsibility and cargo handling process.